Barone di San Cosimo, 1792.
Last Update: 16-04-2023.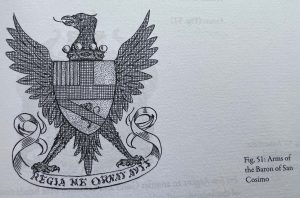 Granted to: Dr Ugolino Calleja JUD.
By: Emanuel de Rohan Polduc, Grand Master of Malta.
On: 1792 at Valletta.
With Remainder to: His legitimate and natural male descendants in perpetuity. Consegui dalla munificenza del Gr Mro Titolo di Barone del Feudo di S.Cosmo, posto nel Gozo, per se e suoi discendenti Maschi in infinito, sotto l'obbligo di dare, e presentare ogn' anno nel giorno di S.Martino Papa alli Gran Mri pro tempore un fiore a segno di ricognizione. 27 Novembre 1792.  
List of Title holders: 
1. Dr  Ugolino Calleja, JUD, (d. 1803), 1st Barone, extinct.
Articles relating to this title: