The Lineal descendants of the Last Kings of Cyprus.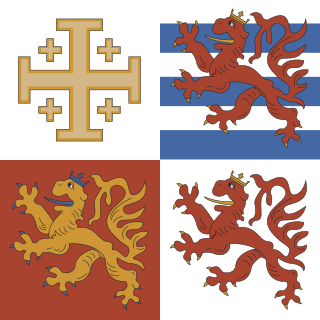 * Pretenders to Thrones mention here;
Last update: 13-01-2023.
| | | | | |
| --- | --- | --- | --- | --- |
| | | de Lusignan | King of Jerusalem from 1186 to 1192 then of Cyprus until 1194 | Guy of Lusignan (c. 1150 – 18 July 1194) was a Poitevin knight, son of Hugh VIII of the Lusignan dynasty. He was king of the crusader state of Jerusalem from 1186 to 1192 by right of marriage to Sibylla of Jerusalem, and of Cyprus from 1192 to 1194. Having arrived in the Holy Land (where his brother Amalric was already prominent) at an unknown date, Guy was hastily married to Sibylla in 1180 to prevent a political incident within the kingdom. As Baldwin's health deteriorated, Guy was appointed regent of Jerusalem; at Sibylla's succession to the throne in 1186 she gave the crown to Guy as her king-consort. Guy's reign was marked by increased hostilities with the Ayyubids ruled by Saladin, culminating in the disastrous Battle of Hattin in July 1187—during which Guy was captured—and the fall of Jerusalem itself three months later. Following a year of imprisonment in Damascus, Guy was released by Saladin. After being denied entry to Tyre, one of the last crusader strongholds, by Conrad of Montferrat, Guy besieged Acre in 1189. The siege developed into a rallying point for the Third Crusade, led by Philip Augustus of France and Sibylla's first cousin once-removed, Richard the Lionheart. Guy entered a bitter row with Conrad over the kingship of Jerusalem; despite Richard's support for Guy, Conrad was elected king by the nobility of the kingdom. Conrad was assassinated by the Hashshashin days after the election; Richard's and Guy's involvement in the incident is suspected, but unproven. Nevertheless, Guy was compensated for the dispossession of his crown by being given lordship of Cyprus in 1192, which Richard had annexed from the Byzantine Empire en route to the Levant. Guy ruled the Kingdom of Cyprus until his death in 1194, when he was succeeded by his brother Amalric. |
| | | de Lusignan | King of Cyprus from 1194 to 1205 and of Jerusalem from 1198 | The Lusignan family was noted for its many Crusaders. Amalric and Guy were sons of Hugh VIII of Lusignan, who had himself campaigned in the Holy Land in the 1160s. After being expelled from Poitou by their overlord, Richard the Lion-hearted, for the murder of Patrick of Salisbury, 1st Earl of Salisbury, Amalric arrived in Palestine c. 1174, Guy possibly later. Amalric married Eschiva, daughter of Baldwin of Ibelin. He then took service with Agnes of Courtenay, wife of Reginald of Sidon and mother of Baldwin IV of Jerusalem. The pro-Ibelin Chronicle of Ernoul later claimed that he was her lover, but it is likely that she and Baldwin IV were attempting to separate him from the political influence of his wife's family. He was appointed Constable of Jerusalem soon after April 22, 1179. Guy married the king's widowed older sister, Sibylla of Jerusalem in 1180, and so gained a claim to the kingdom of Jerusalem. Amalric was among those captured with his brother after the disastrous Battle of Hattin in 1187. In 1194, on the death of Guy, he became King of Cyprus as Amalric I. By his first wife, Eschiva of Ibelin, he was the father of Hugh I of Cyprus and was crowned in Nicosia on September 22, 1197. After Eschiva's death in October 1197 he married Isabella, the daughter of Amalric I of Jerusalem by his second marriage, and became King of Jerusalem in right of his wife and crowned at Acre in January 1198. In 1198 he was able to procure a five years' truce with the Muslims, owing to the struggle between Saladin's brothers and his sons for the inheritance of his territories. The truce was disturbed by raids on both sides, but in 1204 it was renewed for six years. Many members of the royal family died in rapid succession in early 1205, including Amalric himself. Amalric's two older sons Guy an John, boys of about eight years of age, died early in 1205. Amalric died of dysentery (allegedly brought on by "a surfeit of white mullet") or even poisoned at Saint Jean d'Acre on 1 April 1205, just after his son Amalric and four days before his wife, and was buried at Saint Sophia, Nicosia. The kingdom of Cyprus passed to Hugh, his only surviving son, while the kingdom of Jerusalem passed to Maria, the daughter of Isabella by her previous marriage with Conrad of Montferrat. |
| | | de Lusignan | (r. 1205-1218), King of Cyprus | succeeded to the throne of Cyprus on April 1, 1205 underage upon the death of his elderly father Amalric of Lusignan, King of Cyprus and Jerusalem. His mother was Eschiva of Ibelin, heiress of that branch of Ibelins who had held Bethsan and Ramleh. Hugh was married September, 1210 at Nicosia to his stepsister Alice of Champagne of Jerusalem (1193/1198–1246), daughter of his father's last wife Isabella I of Jerusalem and her previous husband Henry of Champagne, king of Jerusalem. The couple had three children: Mary of Lusignan (before March, 1215 – 5 July 1251 or 1253), who married Count Walter IV of Brienne in 1233 (ca. 1200 – murdered at Cairo, 1244). She became mother of Hugh of Brienne (ca. 1240–1296), who was Count of Lecce and Brienne and pursued the kingdoms in Levant for himself when his uncle Henry's line began to go extinct. This claim fell to her grandson Walter V of Brienne and his descendants. They are the heirs-general of King Amalric I of Cyprus and Hugh I himself. Isabella of Lusignan (1216–1264), who married Henry of Antioch, and who was the mother of Hugh III of Cyprus and ancestress of the line named later as the second dynasty of Lusignan Henry I of Lusignan (1217–1253), namesake of his maternal grandfather, who became King of Cyprus upon his father's death in 1218, with his mother acting as regent. He died at Tripoli and was buried at the Church of the Hospitallers at Tripoli, then at the Church of the Hospitallers at Nicosia. |
| | | de Lusignan | (r. 1218-1253), King of Cyprus | Henry was crowned at the age of 8 at Santa Sophia, Nicosia, in 1225.[1] The reason for the early coronation was as a political maneuver by his uncle Philip, who sensed that Frederick II, Holy Roman Emperor, was going to attempt to seize power. In 1228 this did occur, as Frederick forced John of Ibelin to hand over the regency, and the island of Cyprus. However, when Frederick left the island in April, John counter-attacked and regained control, which began the War of the Lombards. Henry was able to assume control of the kingdom when he came of age at 15, in 1232, and maintained close ties with the Ibelin family. Henry himself served as Regent of Jerusalem for Conrad of Hohenstaufen 1246–1253. He was married three times; his third wife, whom he married in 1250, was Plaisance of Antioch, daughter of Bohemund V of Antioch. They had a son, Hugh. On his death, Henry was succeeded by his only child, his infant son Hugh II (b. 1253). If he had not had children, his heirs were his eldest sister's sons Jean de Brienne (b. 1234) and Hugh of Brienne (b. c. 1240), as well as his younger sister's son Hugh of Antioch, the future Hugh III of Cyprus (b. c. 1235). He was buried at the Church of the Templars, at Nicosia. |
| | | de Lusignan | (r. 1253-1267), King of Cyprus | On January 18, 1253, at the age of two months, he succeeded his father Henry I as king of Cyprus, with his mother, Queen Plaisance, acting as regent, and was crowned at Santa Sophia, Nicosia, later in that year. Although he had only a weaker claim to the Kingdom of Jerusalem, many felt that he was a better candidate (living in a Crusader state close to the Palestinian coast) than Conradin, the Hohenstaufen claimant who was also a child but absent in Europe (Hugh II was second in order of succession, right after Conradin himself, since he was the son of the only surviving son of Alice of Champagne, the second surviving daughter of Queen Isabella I of Jerusalem and thus Conradin's great-grandaunt). In 1258 John of Ibelin, lord of Jaffa, and Bohemund VI of Antioch brought Hugh and Plaisance to Acre, where Hugh was set up as regent for Conradin, and Plaisance was chosen to carry out Hugh's regency while he remained underage, becoming Lord of Jerusalem. In 1261 Plaisance died and the regency of Cyprus passed to Hugh of Antioch-Lusignan, Hugh II's 25-year-old first cousin. His mother, Hugh II's younger aunt Isabella of Lusignan became acting regent of Jerusalem in Acre. Hugh II died in Nicosia in November 1267 at the age of 14 and was buried in the Dominican Church in Nicosia. He had been betrothed and was possibly married at Nicosia in 1264/1265 to Isabella of Ibelin (ca 1252 – Beirut, 1282/1283 and buried there), Lady of Beirut 1264, but the marriage was never consummated. He was succeeded by Hugh of Lusignan-Antioch (son of his younger aunt Isabella) as Hugh III of Cyprus, though his heir-general was another first cousin, Hugh of Brienne (c 1240–1296), son of Mary of Cyprus, the eldest aunt of the deceased Hugh II. This claim fell to his son Walter V of Brienne and his descendants. They are the heirs-general of King Amalric I of Cyprus. It has often been claimed that 1266 Thomas Aquinas dedicated his work De regimine principum ("On the Government of Rulers") to Hugh II, but in view of the strong argument by Christoph Flüeler (Rezeption und Interpretation der Aristotelischen "Politica" im späten Mittelalter, Bochumer Studien zur Philosophie, 19 (Amsterdam and Philadelphia: B.R. Grüner, 1992), 2v.; v.1, 23–29.) for redating the work to 1271–73, it now seems likely that it was written for his successor Hugh III (1267–84). Later works, such as Panos Leventis' Twelve Times in Nicosia. Nicosia, Cyprus, 1192-1570: Topography, Architecture and Urban Experience in a Diversified Capital City (Nicosia: Cyprus Research Center, 2005, pp.49, 51) argue for the earlier dating and the work's dedication to Hugh II, based on a perceived "formative" understanding of Aristotelian works by Aquinas, i.e. prior to 1265. |
| | | de Poitiers de Lusignan | (r. 1267-1284), King of Cyprus | From 1261 he served as Regent for Hugh II of Cyprus in Cyprus, as the Haute Cour of Cyprus considered him, as a male, a better regent than his mother Isabella. She was, however, accepted as the Regent of Jerusalem in 1263. She died in 1264, and Hugh became the acting regent of the Kingdom of Jerusalem as well as Cyprus. The regency was contested by his first cousin, Hugh of Brienne, who was the son of Mary of Cyprus, the eldest daughter of Hugh I and hence the senior heir to Cyprus, and heir to Jerusalem after Hugh II. However, the Haute Cour of Jerusalem declared Hugh of Antioch the next regent, as successor to Isabella in proximity of blood. Hugh II died in 1267 without heirs. As Hugh of Brienne did not advance his claim on the throne, Hugh of Antioch succeeded as uncontested King of Cyprus on 5 December and was crowned at Santa Sophia, in Nicosia, on 24 December. He claimed the Kingdom of Jerusalem as well in 1267 or 1268 upon the execution of Conradin. However, the throne of Jerusalem was also claimed by Mary of Antioch by proximity of blood to Conradin. The Haute Cour of Jerusalem rejected her claim and Hugh was crowned King of Jerusalem at Tyre on 24 September 1269. Hugh and his descendants, the Kings of Cyprus, assumed his mother's surname of Lusignan in 1267, having inherited Cyprus through that family, thus establishing the Second House of Lusignan. Hugh disliked dealing with the various factions in the Kingdom of Jerusalem, and left for Cyprus in 1276 in disgust at their defiance of his authority. The next year, his bailiff, Balian of Ibelin, Lord of Arsuf, was ejected by Roger of Sanseverino, the bailiff of Charles of Anjou, who had purchased the claim of Mary of Antioch. The kingdom remained under Angevin control for the rest of Hugh's reign. It is supposed that Thomas Aquinas' work On Kingship was written for Hugh III. He was buried at Santa Sophia, in Nicosia. |
| | | de Lusignan | (r. 1284-1285), King of Cyprus | was the eldest son of Hugh III of Cyprus and Isabella of Ibelin. He succeeded his father as King of Cyprus (as John I) on March 24 and was crowned at Santa Sophia, Nicosia on May 11, 1284. His succession as King of Jerusalem was opposed by Charles of Anjou, who had also disrupted his father's succession. John died the following year on 20 May, having never married and leaving no children. He was buried in the church of St. Demetrius or according to some Santa Sophia, in Nicosia. According to some authors he was poisoned by his brothers, one of whom, Henry II, succeeded him in Cyprus and Jerusalem. He died unmarried and without issue. |
| | | de Lusignan | (r. 1285-1324), King of Cyprus | He was the second surviving son of Hugh III and succeeded his brother John I on 20 May 1285; there was some suspicion that Henry had been involved in poisoning John. He was crowned at Santa Sophia, Nicosia, 24 June 1285. Charles of Anjou, who contested John's claim to the throne, had died in 1285, allowing Henry to recover Acre from the Angevins. With a fleet Henry attacked Acre, defended by Charles' lieutenant Hugh Pelerin, and the city was captured on 29 July. Henry had himself crowned King of Jerusalem there on 15 August 1286, but returned to Cyprus and appointed his uncle Philip of Ibelin as Bailiff in his absence. By this time Acre was one of the few coastal cities remaining in the remnant of the Kingdom of Jerusalem. During his reign the Mameluks captured Tyre, Beirut, and the rest of the cities, and destroyed the similarly weakened County of Tripoli in 1289. The final siege of Acre began on 5 April 1291 with Henry present in the city. He escaped to Cyprus with most of his nobles, and the city fell to Khalil on 28 May. Henry continued to rule as King of Cyprus, and continued to claim the kingdom of Jerusalem as well, often planning to recover the former territory on the mainland. He attempted a coordinated military operation in 1299/1300 with Ghazan, the Mongol ilkhan of Persia, when Ghazan invaded Mameluk territory in 1299 (see Franco-Mongol alliance); he tried to stop Genoese ships from trading with the Mameluks, hoping to weaken them economically; and he twice wrote to Pope Clement V asking for a new crusade. His reign in Cyprus was prosperous and wealthy, and he was very much involved with the justice and administration of the kingdom — he had the Haute Cour keep written records for the first time (in Italian or French, rather than Latin), and extended the court's role from a feudal advisory body to a true court responsible for trying and punishing criminals. However, Cyprus was in no position to fulfill his true ambition, the recovery of the Holy Land. He suffered from epilepsy, which at times incapacitated him, and his nobles were unsatisfied with him. He had his brother Guy, the Constable of Cyprus, put to death in 1303 for conspiring against him. In 1306 his brother Amalric, Prince of Tyre, Constable of Jerusalem, conspired with the Templars to remove him from power. However, Amalric assumed the title of Governor and Regent of Cyprus, rather than of King. Henry was deposed on 26 April and exiled to Armenia, where King Oshin of Armenia was Amalric's brother-in-law. However, upon the murder of Amalric in 1310, Oshin released Henry, who returned to Cyprus and resumed his throne with the aid of the Hospitallers on 26 August 1310, imprisoning many of Amalric's co-conspirators, including their brother Constable Aimery, brother-in-law Balian II of Ibelin, Prince of Galilee, and other relatives of Balian. In 1313, he oversaw the dissolution of the Templars in Cyprus and the transfer of their property to the Hospitallers. He married Constanza of Sicily (1303/1307 – in Cyprus after 19 June 1344), daughter of Frederick III of Sicily and Eleanor of Anjou, at Santa Sophia, Nicosia, on 16 October 1317 but they didn't have any children. She later married Leon V of Armenia and Jean de Lusignan, Titular Prince of Antioch. Henry died on 31 March 1324 at his Villa in Strovolos, near Nicosia, was buried at the Franciscan Church of Nicosia and was succeeded by his nephew Hugh IV. |
| | | de Lusignan | (r. 1324-1359), King of Cyprus, titular King of Jerusalem | Hugh appears to have been content to rule Cyprus, as he prevented his son, Peter I, from going to Western Europe to recruit support for a new crusade to recover their Kingdom of Jerusalem. In 1344, he joined a league with Venice and the Knights Hospitallers which burnt a Turkish fleet in Smyrna and captured the city. In 1345 the allies defeated the Turks at Imbros by land and sea, but Hugh could see little benefit for his kingdom in these endeavors and withdrew from the league. He was crowned as King of Cyprus at Santa Sophia, in Nicosia, on 15 April or 25 April 1324. In the same year, on 13 May, he was crowned at Saint Nicholas Cathedral, in Famagusta as Titular King of Jerusalem. As a leader, King Hugh signed an agreement with Venice, which had to do with the activities of the Venician merchants who were settling in Cyprus. That caused problems with the Republic of Genoese who were rivals of the Venetians; however he negotiated with them and had agreement in 1329. The Genoese demanded that Hugh pay the debit of his uncle Henry II. He died in Nicosia. During his reign, he was strict about issues relating to justice. When his two sons left wthout his permission for a trip in Europe, he arrested the man who helped them to leave the island, he imprisoned and tortured him, and he cut off a hand and a foot before he hanged him in April 1349. He managed to bring back his two sons and he imprisoned them. Other sources show that he was well educated and had an interest in art, literature, and philosophy and had much knowledge of Latin literature. He owned a summer villa in Lapithos and organised philosophical meetings. The Italian writer Boccaccio, wrote Genealogia Deorum Gentilium at the request of Hugh IV. Hugh resigned the crown to his son, Peter I (rather than his grandson Hugh) in 1358, and died on 10 October 1359 in Nicosia. |
| | | de Lusignan | (r. 1359-1369), King of Cyprus, titular King of Jerusalem | was King of Cyprus, and Titular King of Jerusalem from his father's abdication on 24 November 1358 until his own death in 1369. He was also Latin King of Armenia from either 1361 or 1368. He was the second son of Hugh IV of Cyprus, the first by his second wife Alice of Ibelin. He also received the title of Titular Count of Tripoli when young, in 1346. He was the greatest King of Cyprus on a military basis, where he had great success. Unfortunately, he was unable to complete many plans, due to internal dispute that culminated in his assassination at the hands of three of his own knights. |
| | | de Lusignan | (r. 1285-1324), King of Cyprus | In 1372, Peter II was crowned in Nicosia at the Cathedral of St. Sophia as king of Cyprus on 6 January, and at the Cathedral of St. Nicholas in Famagusta as king of Jerusalem on 10 October and Genoese found the chance for intervention in Cyprus, after his crowning. While his crowning as King of Jerusalem on 12 October, during the ceremony of his crowning there were marked serious episodes. Protagonists of the episodes were the Venetians and Genoese of Famagusta. According to the custom, the leaders of those two colony communities of Famagusta were holding, during the ceremony, honorary two reins of royal horse. The episodes began suddenly after a conflict of who will hold the left and who the right rein and continued and became expanded during the evening of the celebration dinner and afterwise to the roads of Famagusta, where Venetians and Genoese had armed conflict with many victims and damages. For the bloody fights, Genoese tradesmen were considered responsible and they were arrested. The rest of the Genoese accused then in Genoa the arrest of their compatriot and the authority of that powerful city believed that this was their chance for intervention in Cyprus. So, they organized an expeditional force which was financed by rich Genoese. Head of the expeditional army was Peter di Campofregoso, brother of the Doge of Genoa. Peter and his councilors in Cyprus, believed that all available military forces should be syphoned to the island to face the Genoese threat. Therefore, Peter forfeited Antalya (captured by his father, Peter I) to Emir Teke in a treaty. The Cypriots withdrew their forces in 1373. Peter did not lead the resistance against Genoese, but left it to his uncles, John and James I. Oppositely, the young king, who was with his mother Eleanor on Famagusta, he only managed to lose a very important city-harbour and to be arrested as captive. Famagusta which was excellently fortified, was captured by Genoese with technique. Specifically, it was allowed the entrance of Genoese in the city supposedly for negotiations and that entrance was proved fatal. Peter was held captive by the Genoese with his mother Eleanor. The Genoese also attacked Limassol and Paphos, and also entered the kingdom's capital, Nicosia. His two uncles John and James resisted successfully against Genoese from the St. Hilarion Castle and from the town of Kyrenia. The following year (1374), he was forced to come to a humiliated agreement with Genoese which was declaring: the remaining of Famagusta under Genoese sovereignty, the payment of huge compensations to Genoese, to give Kyrenia under Genoese sovereignty and James to leave Cyprus. James obeyed and left Kyrenia but leaving for Europe he was arrested by Genoese, despite the permission that they would not disturb him. He returned when he became King of Cyprus. The whole Genoese operation in Cyprus, brought them many benefits. However, before they left, they executed those who were involved to Peter I's murder as they promised to Eleanor, who after the end of the war against Genoese, organised and killed the Prince John, who believed he was involved in the murder of her husband. The powerful Eleanor came in conflict with Valentine after her wedding with Peter II, and also was involved in many issues and scandals. So, Peter decided to send away his mother from Cyprus. Despite his mother's protests, Eleanor went back to Spain in September 1378. Also Peter negotiated and succeeded a peace treaty with the Sultan of Egypt. Also he built and improved the fortifications of Nicosia. He also built a royal villa in the village of Potamia and other tasks. Like his father, he creates his own similar currencies. He died on 13 October 1382 at the Palace of La Cava, Nicosia, and was buried at St. Dominic's, Nicosia. |
| | | de Lusignan | (r. 1382-1398), King of Cyprus and Armenia, titular King of Jerusalem. | After Peter II's death in 1382, since Peter had no surviving issue, the Parliament of Cyprus decided James to be the king, while he was captive in Genoa. Genoese, in order to release him to go to Cyprus to become a king, they negotiated with him and received his signature for agreement on February 2, 1383. Under that agreement, Genoese had new privileges for commercial activities. Famagusta was still under Genoese sovereignty, something that was never accepted by either James and other kings after him and during his reign he tried to regain that city. Until he was released, the Kingdom of Cyprus was governed by 12 nobles. After he was released in 1383, he was not accepted, as it is referred by the historian Leontios Makhairas and returned to Genoa. Some nobles opposed the return of James, led by the brothers Perotte and Vilmonde de Montolivve, who were believing that with that situation they could become kings. James' opponents could not be beaten, until 1385. In April 1385, James came back again in Cyprus and he went to Nicosia, where he was welcomed with great enthousiasm. He was crowned in May 1385 in Saint Sophia Cathedral. After his crowning, his opponents were arrested and punished. He was crowned King of Jerusalem in 1389 and in 1393, Leo VI of Armenia died, and James assumed the title of King of Armenia, and was formally given the title in 1396. That kingdom was by now reduced to the city of Korikos, which had been in Cypriote hands since its conquest by Peter I of Cyprus. So when in 1382, Peter II died, James succeeded him, since Peter didn't have a son. He died in Nicosia. |
| | | de Lusignan | (r. 1398-1432), King of Cyprus titular King of Jerusalem and Armenia. | He was born in Genoa where his father, King James I of Cyprus was a captive. His mother, Helvis of Brunswick-Grubenhagen gave him the name Janus which was the name of the god who founded Genoa, according to a mythological tradition. When his father was elected King, he made an agreement with the Genoese to release him to go to Cyprus; he negotiated with them and signed an agreement on 2 February 1383. Under that agreement, the Genoese had new privileges for commercial activities. However, under Genoese demand, his father left his son Janus in their city as hostage. James sent a noble to Genoa, John Babin, as act as stepfather of his son. As the Cypriot historian Leontios Makhairas wrote, James ordered a special tax which required the Cypriots – both nobles and people – to buy an amount of salt in order to collect the amount of money needed to release his son from the Genoese; this was achieved on October 1392, when Janus was 18 years old. After his father's death on 9 September 1398, Janus took over the throne of Cyprus. He was crowned in Saint Sophia Cathedral of Nicosia on 11 November 1398. As a king he tried to take back Famagusta, which was under Genoese rule, in 1402. The administrator of Famagusta, the Genoese Antonio de Karko, according to writings of Amati was the Janus' godfather. Janus conspired with a priest who was the spiritual father of de Karko, in order to return the city to the Cypriot King, by which the priest was to become Bishop of Famagusta. Involved in that conspiracy was Peter Makhairas, brother of Leontios. They made secret keys for the City Gates and there were many preparations to take over Famagusta and to murder de Karko by Brother Gregory and to open the gates for Janus' soldiers. However, at the last moment the plan was betrayed, and the conspirators were arrested at Famagusta; 28 of them were executed and this resulted in the city remaining in Genoese hands. The King continued his effort to take back Famagusta (whose territory included also Kyrenia). In 1403, the Governor of Genoa, de Mengre, had talks with Janus' representative Giorgio Billi and the talks ended with an agreement, by which the cities remained under Genoese hands. Later, he forced the Cypriot people to pay special taxes to assemble an army and machines for siege and he besieged Famagusta. The siege lasted for three years but it proved useless since there was access from the sea to the city. In 1406, the siege ended and the Genoese tried to occupy Limassol, but they were defeated. Two years later, the island was affected by epidemics. Simultaneously, there were many raids of locusts on the island, which caused destruction to agriculture. A new epidemic arrived in 1419–20 and that probably caused the death of Janus' second wife Charlotte. Because the King was very distraught, the body of the dead queen was moved out of the palace where her funeral was, in order to not be seen by Janus. She died on 15 January 1422. Meanwhile, because Cyprus was still a permanent base of campaign of pirates and adventurers, after raids around Cypriot costs, Janus had repeated discussions with the Sultan of Egypt via the Sultan's representatives. Janus was not able to stop those raids and that gave the Muslim reason to attack Cyprus. Those raids were participated by Cypriot nobles and officials of the Kingdom. Barsbay, the Sultan of Egypt, sent military forces to Cyprus several times. A small force, around in 1424, hit Limassol and in 1425 the Egyptian army attacked Famagusta, and then pillaged Larnaca together with the area beside it, Kiti, Dromolaxia, Kellia, Aradippou and Agrinou. After Larnaca, they moved to Limassol, which was also sacked, as well as the city's castle. In the summer of 1426, the Mamluks launched a large scale attack against the island. Their army arrived in the island with 180 ships in Avdimou. Led by Tangriver Mohamed and Inal el Kakimi, the army contained more than 3,000 men and included Mamliks, Turks and Arabs. Limassol was occupied again. Janus mustered his army and moved from Nicosia to Limassol. He asked from help from the forces in Europe, but it did not arrive: the Genoese were his enemies, and the Venetians and others did not want to destroy commercial relations with the sultan. Following the Battle of Chirokitia (7 July 1426) against the Mamluks, King Janus was captured by the Egyptian forces. After ten months of captivity in Cairo, he was ransomed. During his captivity his brother Hugh of Lusignan, Archbishop of Nicosia, took charge of Cyprus. After their victory the Mamluks pillaged Larnaca again and then the capital of Cyprus, Nicosia. The royal family retreated to the fortified Kyrenia and were rescued. The invaders took a great deal of loot and captives and left the island. That disaster, together with the previous raids, the war operations of Janus against Genoese, the epidemics and the invasion of locusts caused the Cypriot serfs who lived in conditions of utter poverty to revolt. The leader of the Cypriot revolutionaries was a person called Alexis who was declared as King in Lefkoniko. The revolution was big, and was supported by the people who elected their own leaders in many places of Cyprus. Meanwhile, Janus was humiliated in Cairo: they took him, tied up with chains and riding a donkey, in front of the Sultan, after which he was forced to kneel and worship nine times the soil on which he stepped. The release of Janus was effected after the mediations of Europeans, who offered money for the collection of the required ransoms. Also Cyprus had to offer the Sultan annual tax based on 5,000 duchies. That tax continued to be offered, even after the end of the Frankish rule in Cyprus. Together with Janus, some of the captives managed to buy their freedom after their families collected money. Some others remained as captives and were sold as slaves. While Janus was captive, in Cyprus, the nobles and the royal family members were trying to face the Alexis' Rebellion and concurrently began to try for the release of Janus. With help from Europe, the rebellion was repressed after 10 months. The leader of the rebels was arrested as a captive. After terrible tortures, he was executed in Nicosia on 12 May 1427, the same day that King Janus arrived in Paphos from Cairo. |
| | | de Lusignan | (r. 1432-1458), King of Cyprus titular King of Jerusalem and Armenia. | King of Cyprus and Armenia and also titular King of Jerusalem from 1432 to 1458. He was previously a Titular Prince of Antioch. In May, 1435/1440 he married Aimee or Amadea Palaiologina of Monferrato (August 3, 1429 – Nicosia, September 13, 1440), Queen of Cyprus, Titular Queen of Jerusalem and Armenia, daughter of John Jacob, Marquess of Montferrat, without issue. His second wife, a distant relative of his first one, married in Nicosia, 1441 or February 3, 1442 was Helena Palaiologina (1428 – April 11, 1458), only child and daughter of Theodore II Palaeologus, Despot of Morea and his wife Cleofa Malatesta. Theodore was a son of Eastern Roman Emperor Manuel II Palaeologus and Helena Dragaš and the brother of the last two Eastern Roman Emperor, John VIII Palaeologus and Constantine XI Palaeologus. By his second marriage he had two daughters: Charlotte of Lusignan Cleopha of Lusignan, died young Upon the death of John II, his only surviving legitimate child Charlotte succeeded to the throne. John had an illegitimate son by Marietta de Patras, James, whom he appointed Archbishopic of Nicosia at the young age of 16. James did not prove ideal Archbishop material, and was stripped of his title after murdering the Royal Chamberlain. His father eventually forgave him and restored the Archbishopric. James and Helena were enemies, vying for influence over John. After Helena died in 1458, it appeared that John would appoint James as his successor, but John died before he could make it so. He was the last direct legitimate male descendant of Raymond of Antioch, an illegitimate son of William IX of Aquitaine. |
| | | de Lusignan | (r. 1458-1464), Queen of Cyprus titular Queen of Jerusalem and Armenia. | Charlotte succeeded as Princess of Antioch in 1456 the same year she married her first husband, John of Portugal. She was widowed in 1457, and on 28 July 1458 her father died. At the age of fourteen Charlotte became Queen of Cyprus and was crowned at St. Sophia Cathedral on 7 October 1458. Her reign was not successful. She had a tenuous hold on the kingdom as her right to the throne was constantly being challenged by her illegitimate half-brother James. On 4 October 1459, she married her second husband, Louis of Savoy, Count of Geneva. This marriage had been arranged by the Genoese who promised their assistance in retaining her crown against the claims by James. In 1460 he managed to capture Famagusta and Nicosia with aid from the Egyptian sultanate of Sayf ad-Din Inal. After being blockaded in the castle of Kyrenia for three years, she and Louis fled to Rome in 1463, whereupon her half-brother was crowned King James II. She took up residence at the Convertendi Palace in Trastevere. Pope Pius II, who was acquainted with her described Charlotte as "a woman of about twenty-four, of middle height: bright eyes, complexion betwixt dark and pale; speech smooth and flowing torrent like after the manner of the Greeks; French costume; manners becoming her royal blood". She later formed a small court on the Greek island of Rhodes. She made an unsuccessful military attempt to regain her throne with papal support. She also intrigued against the Regent of Cyprus, Catherine Cornaro but failed to oust her from power. In November 1483 she was received by Pope Sixtus IV in the Vatican Palace and was seated in a chair of the same "height and dignity" as the pope |
| | | de Lusignan | (r. 1464-1473), King of Cyprus titular King of Jerusalem and Armenia. | In 1458 his father died, and his half-sister Charlotte became Queen of Cyprus. In 1460, with support from the Egyptian Mamluk sultan Sayf ad-Din Inal, James challenged her right to the throne, blockading her and her husband in the castle of Kyrenia for three years. When Charlotte fled to Rome in 1463, James was crowned King. In gratitude, he made his friend and supporter Juan Tafures Master of his Household and Titular Count of Tripoli. |
| | | de Lusignan | (r. 1473-1474), King of Cyprus titular King of Jerusalem and Armenia. | was the only and posthumous child by marriage of James II of Cyprus and Catherine Cornaro and King of Cyprus from birth. He died in mysterious circumstances as an infant, leaving his mother as the last Queen of Cyprus. His death paved the way for Venice to gain control of Cyprus. |
| | | Cornaro | (r. 1474-89), Queen of Cyprus. | In 1468, James II of Cyprus, otherwise known as James the Bastard, became King. In 1473 he chose Caterina for a wife and Queen of the Kingdom of Cyprus. The King's choice was extremely pleasing to the Republic of Venice as it could henceforth secure the commercial rights and other privileges of Venice in Cyprus. They married in Venice, on 30 July 1468, by proxy, when she was only 14 years old. She finally travelled to Cyprus and married in person at Famagusta in October or November, 1472.[citation needed] James died soon after the wedding due to a sudden illness, and according to his will, Caterina, who at the time was pregnant, acted as regent. She became monarch when their infant son James died in August, 1474 before his first birthday, under suspicious circumstances.[citation needed] The kingdom had long since declined, and had been a tributary state of the Mameluks since 1426. Under Caterina, who ruled the island from 1474 to 1489, the island was controlled by Venetian merchants, and on 14 March 1489 she was forced to abdicate and to sell the administration of the country to the Republic of Venice. According to George Boustronios, "On 14 February, the Queen dressed in black and accompanied by the Barons and their ladies, set off on horseback. Six knights held her horse's reins. From the moment she left Nicosia, her eyes kept streaming with tears. Upon her departure, the whole population was bewailing."[this quote needs a citation] Having been deposed in February of that year, Caterina was finally obliged to leave the island on 14 May 1489 |
Titular Sovereigns of Cyprus, Jerusalem, Armenia, Antioch, Tripoli and Galilee and Lineal Heirs to the de Lusignan family.
| | | | | |
| --- | --- | --- | --- | --- |
| Name: | Face | Surname | Titular Reign | |
| (1466-1536) | | de Lusignan later d'Armenia | 1474 – 1536 | in a Naval fight against the Turks), titular King of Cyprus, Jerusalem, Armenia, Titular Prince of Antioch, Tripoli and Galilee (r. 1474-1536). Moved to Padua, Sicily then Malta, created Baron di Baccari (Tal-Baqqar ) in 1508 'Ciu quidem fupplicatiori benigniter de more nostro annuentes. (qui femper fuit ferurtia paterna infilios, recognefcere, @ gratificare). ; Pietro d'Armenia to whom was granted the fief of the vineyard or garden of Baccari with its lands (Girghenti and the pond of S. Giorgio) in 1536, but was never invested having been killed in a naval battle with the Moors in the sea of the Barbary Coast. He captained a ship belonging to Giovanni di Nava but also had one of his own. [Reference: Ladies of Medieval Cyprus and Caterina Cornaro by Leto Severis, Nicosia 1995; ISBN 9963-8102-1-7. pp 152. "States that King James II left in his will if his legitimate daughter died without issue, Eugene would inherit the throne of Cyprus"], Further note fought the Turks at sea when the Order of St John was still in Rhodes., He was praised for his bravery by Grand Master Ursino in 1470 and by Emperor Charles V.] |
| | | d'Armenia | 1536 -1558 | Antonio d'Armenia, to whom was made a regrant of the fief of the vineyard or garden of Baccari with its lands (Girghenti and the pond of S. Giorgio) by King Ferdinand on the 14 June 1508. (See also marginal note in Abela p. 455, where Antonio leased out a parcel of land in Girghenti in the district of Deyr il-Bakar). Antonio was also granted the title of Viceportulano of the islands of Malta and Gozo confirmed by Queen Giovanna and Emperor Charles on the 30 August 1518 in Saragoza. On the 6 March 1527 Emperor Charles V wrote a letter of personal recommendation for Antonio with reference to the heroic deeds of his father Pietro. ("non sappiamo se fosse fratello o figlio di Pietro"), to whom parts of the fief of Benuarrat was granted by King Ferdinand on 22 January 1514, in Madrid in recognition ("recompensam") for his loyalty in the naval battles in Africa against the "perfidos Mauros" |
| | | d'Armenia | 1558 – 1589 | 3rd Barone di Baccari e Benuwarred, succeeded his father as the only legitimate son. Married in 1564 at Matrice Gozo to Bernardina Zuppardo (Azzopardi). Had three legitimate sons, the elder dying in 1573 and the other sons all dying in infancy., Also had several illegitimate children, mostly entered the church as either nuns or monks. Janus Masi, was succeeded by his only legitimate child, Isabella. |
| (1540-1598) | | Ciuma nee d'Armenia. | 1589 – 1621. | The only legitimate child of Janus II Masi, succeeded to the Maltese baronies of Baccari and Benuwarrad. On the year 1590, Isabella had sold the fiefdom of Baccari to her Aunt, also with the same name. and the fiefdom of Benwarred was sold to the Knights of St John of Malta. She married to Matteo Ciuma, though all children died in infancy. Succeeded by her cousin through her aunt Isabella. |
| | | Inguanez | 1621 – 1632. | Succeeded his mother's cousin in 1621 as the titular heir to the de Lusignan kingdom of Cyprus, Armenia and Jerusalem etc.. also succeeded his mother as the 6th Barone di Baccari, his father was the Baroncino di Ghariexem e Tabia. His grand father had sold the fiefdom to the Knights of St John of Malta. Married 1615 at Cospicua Malta to Olimpia de Landa, with issue. |
| | | Inguanez | 1632 – 1679. | Succeeded his father as titular head of the House of Lusignan and inherited the lands of his branch within the Inguanez family around Rabat Malta and in Rabat Gozo. Married 1642 Rabat Gozo to Isabella Muscat, with issue. Amogst them are sons who succeeded to the lands over fiefdoms or pretensions. Salvatore's eldest daughter succeeded to the Titular ship of de lusignan of Cyprus in 1679. |
| | | d'Amico nee Inguanez | 1679 – 1692. | Succeeded by nomination by her father as Titular Sovereign of Cyprus, though sold 75% of the share base to her Aunt, with the agreement of her siblings. She married in 1664 at Rabat Gozo to Pietro d'Amico and had two daughters, both dying before 1692. She was succeeded by her grand daughter with the remaider share of 15% titular head until her death. |
| | | Schembri – Mangeri – Bisconti nee Abela | 15% share : 1692 – 1737. | Succeeded her grand mother as part titular heir to Cyprus with her Great Aunt then cousin. She married three times without any successful issue. Her line became extinct and her Aunt, Antonia who married to Francesco di Bernardo also dying without issue. Her share titularship was left to her cousin who held majority of titularship. A deed of instrument granted the remainding descendants of Salvatore Inguanez monetary grant. |
| | | Inguanez | 75% share 1692 – 1707. | Succeeded her neice by a deed of instrument of sale to 75% share on her death to the titularship of Cyprus. Isabella was a full time mistress to the very weathly and also head of the House of Inguanez, Marc'Antonio Inguanez, Barone di Djar il-Bniet e Buqana, Captaino della Verga of Malta. Isabella through her lover was able to purchase the share-hold of titular holdership of Cyprus through her neice which she succeeded and to ensure the complete purchase in due course. Isabella had three children with her lover, her eldest son Francesco Inguanez, Lorenzo and Natalie. Isabella also the 7th Baroness di Bacarri by succession by nomination through her father.. |
| (1639-1709) | | Inguanez | 75% share 1707 – 1709. | Succeeded his mother with the deed of instrument granting him the fiefdom of Baccari and the 75% titular ship of Cyprus. A recognised son of Baron Marc'Antonio Inguanez, worked within his step brothers office as Captiano della Verga and held in high regards including the Grand Masters of Malta. Marrying in 1662 Mdina to a distant cousin, a Contessa Bridga Inguanez, a Signorina di Mugiarro with issue. |
| (1665-1742) | | Inguanez | 75% 1709 – 1737. 100% share 1737 – 1742. | Succeeded his father as the eldest son with the fiefdom of Baccari in 1709 and the titular ship (100%) of Cyprus. Also a hereditary Count of the Byzantine Empire through his mother. A heir to his half Uncle Marco Antonio Inguanez to the fiefdoms of Djar il-Bniet e Buqana and Assets also the position of Captiano della Verga which was almost hereditary amongst the Inguanez senior line. Succeeded through his mother the Signor title of Mugiarro. Publio had daughters and shared his titles and claims amongst them. |
| | | Tanti nee Inguanez | 1742 – 1778. | Maria succeed as the eldest child to Publio Inguanez as the titular head of Cyprus, also as the Baroness of Baccari. Also in communication with her great half-uncle Marc'Antonio Inguanez as the next heir to the Djar il-Bniet estate. Marc'Antonio dying without any children in 1760, a petition was sent to the Grand Master of the day to be installed with the estate and fiefdom with battles from distant relatives also claiming the estate. The battle took several years and Maria failed in her fight. Even so, in the will of Marc'Antonio Inguanez, she and her sisters were noted as the next of kin. But bribery from the other claimants with the Grand Master succeeded with their ploy. Maria continued to be styled as Baronessa di Djar il-Bniet e Buqana. One of the main reason due to their failure perhaps was because there was three sisters who were heirs and were not in any prominent position to fight for their rights.In the will of Marc Antonio Inguanez, monies and lands were given from the estate, though the d'Amico family succeeded in claiming much of the properties and forming them as part of the fiefdom of Djar -il-Bniet. Only those properties outside the fiefdom were held by Maria and her sisters. In the will of Maria, her younger daughter Theresia succeeded to the fiefdom of Baccari and Giacobina, the eldest daughter succeeded as the heiress to Cyprus and pretension to the fiefdom of Djar il-Bniet, etc. |
| | | Spiteri nee Tanti. | 1778 – 1783. | Giacobina succeeded her mother as the 16th Baroness by default of Djar il-Bniet e Buqana and the titularship of Cyprus and Signorina di Mugiarro. Married in 1773 to Paolo Spiteri, with issue. |
| | | Farrugia nee Spiteri. | 1783 – 1812. | Succeeded her mother as the 17th Baroness by default of Djar il-Bniet and titularship of Cyprus and Signorina di Mugiarro, living in Rabat Malta. Married in 1773 at Mdina to Chevalier Gio Battista Farrugia, with issue. |
| | | Ciangura nee Farrugia | 1812 – 1846. | Succeeeded her mother as the 18th Baroness by default of Djar il-Bniet, titularship of Cyprus, married in 1809 at Mdina to Giuseppe Ciangura, with issue. |
| | | Ciangura | 1846 – 1898. | Succeeded his mother as the 19th Barone di Djar il-Bniet etc, titularship of Cyprus, married in 1857 at Mdina to Margherita Agius, with issue, three daughters. |
| | | Bugeja nee Ciangura | 1898 – 1923. | Succeeded as the eldest child of Angelo Ciangura as the 20th Baroness by default of Djar il-Bniet, etc, titularship of Cyprus. Maria married firstly in 1889 at Mdina to Ambrosio Bugeja, the 27th Barone di Ghajn Rihani with issue. Then later in 1877 at Mdina marrying to Signore Danastas. Succeeded by her eldest son. |
| (1891-1942) | | Bugeja | 1923 – 1942. | Succeeded as the eldest son of Maria as the 21st Barone di Djar il-Bniet e Buqana, titularship of Cyprus, Signore di Mugiarro and from his father as the 31st Barone di Ghajn Rihani. Married without issue. Succeeded by his brother Giuseppe. |
| (1895-1944) | | Bugeja | 1942 – 1944. | Succeeed his brother Angelo Bugeja, as the 22nd Barone di Djar il-Bniet e Buqana, titularship of Cyprus, Signore di Mugiarro and 33rd Barone di Ghajn Rihani, married twice with one son born from his second marriage. Killed in a war bomb on his estate. |
| (1922-1946) | | Bugeja | 1944 – 1946. | Succeeded his father as the 23rd Barone di Djar il-Bniet e Buqana, titularship of Cyprus, Signore di Mugiarro, 34th Barone di Ghajn Rihani. Dying from a war wound in 1946. Succeed by his Aunt. |
| (1896-1973) | | Vassallo nee Bugeja. | 1946 – 1973. | Succeeed her nephew as the 24th Baron di Djar il-Bniet e Buqana, titularship of Cyprus, Signorina di Mugiarra, 35th Baroness di Ghajn Rihani. Married in 1916 at Mugiarro to the Nobile Giuseppe Vassallo, with issue. On nomination, she was succeeded by her eldest daughter over her sons, whom taken over all landed properties which her daughter hadn't received their equity according to the will of Giuseppe Vassallo. |
| (1926-1991) | | Said nee Vassallo | 1973 – 1991. | Succeeded by nomination and personal choice from her mother, over her brothers to all claimage of hereditary honours. Maria became the 25th Baroness di Djar il-Bniet, titularship of Cyprus, Signorina di Mugiarro, 36th Baroness di Ghajn Rihani. She married in 1947 at Mugiarro to Principe Carmelo Said, 16th Principe de Sayd, 11th Principe di Bibino Magno of Sicily with 12 children.With this union joins another link with the Inguanez several times. |
| (1949-. | | Said | 1991 – | Succeeded his father in 1973 as the 17th Principe de Sayd, 11th Principe di Bibino Magno, 36th Barone di Ghajn Rihani, 18th Signore di Mugiarro, Barone di Djar il-Bniet e Buqana and head of the titularship of Cyprus. |
| Heir: Charles | | Said-Vassallo | (1971 -. | |
Dynastic orders of the Kingdoms of Cyprus and Armenia.
(Reference: https://en.wikipedia.org/wiki/House_of_Lusignan)
these are based on actual historical orders associated with Lusignan.
* Order of Saint Catherine of Mount Sinai
Purportedly founded in 1063 by Robert de Lusignan, surnamed "bras-de-fer", for knights on the Crusades making pilgrimage to Saint Catherine's Monastery on Mount Sinai.
* Order of Mélusine
Purportedly founded in 1186 by Isabella of Ibelin, Queen of Cyprus and Jerusalem. Named after Melusine, legendary fairy wife of Raymond de Forez, founder of the house of Lusignan.
* Order of the Sword of Cyprus or Silence
Purportedly founded in 1195 by Guy de Lusignan for the Armenian Kingdom of Cilicia.
* Order of Saint Blaise of Armenia
reputed to have been awarded by the Armenian Kingdom of Cilicia in the twelfth century. Saint Blaise was the family's patron saint.
Home;